Original Article by Miguel Ordoñez
Posted, Edited and Photos Added by Valkyrie Extractions
We've compiled a Christmas list of strains that will see you through this winter. So, whether you've been naughty or nice, check this list twice, and order your own little helpers.
---
Our top Christmas cannabis strains for 2022…
---
It's that time of year once again, and what a year it has been. Now that the days are getting colder and the evenings are drawing in sooner, that can only mean one thing; it's almost Christmas.
Regardless of your personal enjoyment of the holiday, there's no denying it can be a busy time, and you're bound to have many guests. So, we think all of you could do with some great cannabis to see you through the Christmas period with no troubles. With that in mind, we've put together a list of our favourite winter warmers that will have you jolly in no time.
1. Royal Jack Auto: Daytime Winter Companion
This is a perfect strain for Christmas Day. Flavourful and rich, Royal Jack Auto provides a high somewhere between utter relaxation and through-the-roof euphoria—especially when enjoyed alongside sweets and presents. Perfect for keeping that festive cheer going throughout the day. No couch-locking vibes with this one, so you can head to lunch feeling fresh and no one will be the wiser. This uplifting strain is tied together with a peppy, spicy aroma that wouldn't be out of place alongside a glass of mulled wine.

2. Royal Cookies: Make Sure Your Fridge Is Stocked
Santa's not the only one devouring cookies on Christmas Eve; you too can enjoy a sweet treat—in the form of Royal Cookies. With a high THC content, Royal Cookies delivers an uplifting and undeniably chill high. But that's not all; this strain is synonymous with the munchies. So, even if you feel like you may have overindulged in the festive food, Royal Cookies will have you reaching for another plate of leftovers soon enough.

3. OG Kush: A Belly Full of Laughs
Christmas might look a little different this year, especially with lock-downs and restrictions in place in many different areas. So, while some of your friends and family might not be able to make it to your Christmas party, OG Kush is here to help. A standout strain for well over a decade, this one lands a great mental and physical high, complete with fits of laughter—just when you need it most this holiday season. Whether you're lighting it up or loading it into the brand new vaporizer Santa brought you, enjoy OG Kush and laugh through the bad times.

4. Lemon Shining Silver Haze: Party On
With Christmas comes an endless amount of parties and gatherings—at least it used to. With that, sometimes you need a little help to keep the party spirit going. This is where Lemon Shining Silver Haze comes in. This tasty sativa-dominant strain provides a zesty, festive burst of citrus that's always refreshing. Plus, with the flavour comes an unforgettable "upper high" characterised by an increase in energy and motivation. So, just when you think you're done partying, Lemon Shining Silver Haze will keep the festivities going.

5. Northern Light: Sweet Christmas Dreams
There's no denying the Christmas period is an exhausting time, whether you've overeaten or you've had to sit next to your boring, talkative uncle at the family dinner. It's a time of year that seems to take forever to roll around, and once it's here, it's gone before you know it. What makes it worse is the effect it has on your sleep. Sometimes, we need a little helping hand. This comes in the form of Northern Light, a relaxing indica strain that will give you all the soothing vibes you're looking for. You'll be getting a healthy night's sleep in no time. And, if you need it on Christmas Eve because you're too excited about opening your presents, we won't tell anybody!

6. Bonus Strain — Solomatic CBD: No Buzz Required
As all of the strains on our list have featured a fair share of THC, it's only right we add a CBD strain to the mix. While it won't give you a buzz to help drown out the endless Christmas chatter, it will definitely provide you with great flavours and aromas. Solomatic CBD is ideal for those get-togethers where you need to be straight-laced, but still want that cannabis taste and chill CBD vibe. And, if your grandmother doesn't believe you, you can always offer her your joint to prove your sobriety.

Until Next Time…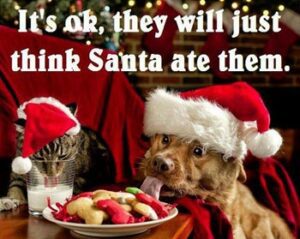 From our family at Valkyrie Extractions, have a Merry Christmas and a safe and Happy New Year!