Posted and Edited by Valkyrie Extractions
Inspired by the film. Named for the summer hit movie of 2008. This pineapple
THC-laden
cake will turn your life upside down, much like what happens to the
stoner protagonist
played by Seth Rogen. His character, Dale, witnesses a murder, and in a panic, he leaves a roach of the namesake Pineapple Express herb behind. The murderers find this uniquely scented clue, and set off on a manhunt, looking for the witness by tracing the dank weed back to its source, weed dealer Saul, played by James Franco.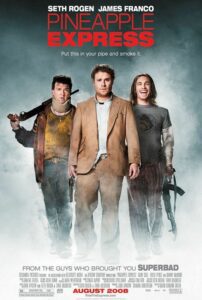 This sparks a madcap stoner buddy action/comedy adventure that went on to gross more than one hundred million dollars worldwide. There are several pineapple-named varieties in existence, including Pineapple Punch from Flying Dutchmen Seed Company. You'll surely need a super-special kind of herb to give this cannabis cake its trademark fruity aroma.
Ingredients
6 

canned 

pineapple slices, drained

12 

tablespoons

cannabutter (see our previous blog on how to make cannabutter)

2 

cups 

granulated sugar

3/4 

cup 

light brown sugar

2 

cups 

cake flour

1 1/8 

teaspoon 

baking powder

1 

teaspoon 

salt

3/4 

cup 

milk

1 

1/2 tablespoons 

dark rum (optional)

1 

1/2 tablespoon 

vanilla extract

2 

eggs

6 

maraschino cherries
Directions
Position a rack in the lower third of your oven and preheat oven to 350°F.
Grease a 9-inch round pie pan. Place the pineapple slices flat in the bottom of pan so they touch but don't overlap.
In a small saucepan over medium heat, combine 6 tablespoons cannabutter with ½ cup of the granulated sugar and ½ cup of the light brown sugar. As the butter melts, stir to blend the ingredients, then spread over the pineapple slices. Set aside.
In a medium bowl, sift together the cake flour, baking powder, and salt. Set aside.
In a small bowl, whisk together milk, rum(optional), remaining 2 tablespoons brown sugar, and vanilla. Set aside.
With an electric mixer, in a large bowl, beat the remaining 6 tablespoons of cannabutter for 1 to 2 minutes until smooth and creamy. Slowly add 1 1/2 cups of the granulated sugar and continue beating at medium speed until light and fluffy (approximately 5 minutes). Add eggs one at a time, beating well after each one.
Reduce mixer speed to low and add the flour mixture in three additions, alternating with the milk mixture until everything's well incorporated and smooth.
Pour the batter into the prepared pan, spreading evenly. Bake until a toothpick inserted into the center of the cake comes out clean (approximately 50 to 55 minutes). Transfer the pan to a wire rack and cool for 15 minutes.
Tap the pan gently to loosen the cake, run a knife around the edge to loosen, then invert the pan onto a cake plate so pineapple slices are on top. Place one cherry in the center of each pineapple slice. Let cake cool 45 minutes before eating.
         Enjoy!