Posted, Edited and Photos Added by Valkyrie Extractions Admin
Original Article Written By Ljubica Cvetkovskl 
Using cannabis used to be all about getting high. Not anymore. With the introduction of cannabidiol and high CBD strains to the cannabis market, things have changed.
Cannabidiol is becoming immensely popular with medical users who want all the healing power but none of the high. Recreational users who are looking to enjoy weed, but still keep a clear head, are also turning to CBD.
Today, CBD evokes notions of luxury and elegance, unlike the stoned image mostly associated with THC consumption.
To make sure you're up to date with the best CBD strains, let's dive into the list of some of the most popular cannabidiol types arranged by their CBD to THC ratio.
Charlotte's Web
One of the most popular CBD-high cannabis strains, Charlotte's Web has an incredible story behind it.
Initially named Hippie's Disappointment, this strain, developed by the Stanley Brothers from Colorado, changed its name due to one little girl—Charlotte Figi.
This two-year-old, diagnosed with Dravet syndrome (a rare form of epilepsy among children), used CBD oil from this low THC high CBD strain to treat her violent seizures.
The effect of decreasing Charlotte's seizures from about 300 per week to just two or three per month turned this CBD bud into the forerunner of the medical cannabidiol revolution.
It also led to the introduction of a successful cannabis company and the drug Epidiolex.
Charlotte's Web remains the most popular among the high CBD strains for medical use today. The main reason behind it is the high 17% to 20% CBD content, with almost no THC.
Plus, its powerful relaxing, pain-fighting, and serene uplifting effects make Charlotte's Web strain regular on the top lists for many products such as quality CBD oils, or even favorite CBD gummies.
On the other hand, the low THC content enables CBD oil's legal selling and distribution of CBD oil from this strain across the nation.
And the aroma? Earthy, piney, herbal, and a tad citrusy.
Suzy Q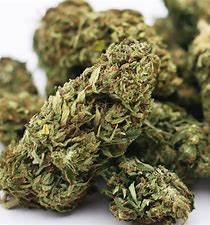 One of the latest additions to the highest CBD strains for 2021 top list is Suzy Q—a particularly novice-friendly cannabis variety.
The arguments? It is reputed for its mellow, relaxing buzz and powerful stress and physical ailment-relieving effects.
Don't get us wrong, you will notice the calmness and increased focus, along with positiveness and care-free attitude, but you might miss the slight energy boost and buzz.
Indeed, the effects of Suzy Q, just like its perfect hybrid proportions (50%/50%), are balanced.
Raking up about 25% CBD for THC within the legal range (below 0.3%), Suzy Q is the best among the high CBD hemp strains for everyday use.
Burning Bush Nurseries, where it was made, really deserve recognition; all the more that Susy Q is aromatically rich with woodsy, grassy, earthy, and musky undertones.
We're absolutely sure you'll fall in love with its pleasantly delicious piney and musky flavor profile.
Remedy
Remedy is an Indica-dominant and unique in the highest CBD hemp strain group. Remedy comes from the Cannatonic strain and Afghan Skunk— two weed varieties with much lower CBD percentages than their hybrid-child.
Indeed, with a whopping 28:1 CBD to tetrahydrocannabinol ratio, Remedy has no psychoactive effects. In other words, it is suitable for use on a daily basis.
Its CBD levels (13% to 18%), on the other hand, definitely put Remedy on the high CBD strains list.
This strain was actually developed to provide high CBD content and medical benefits (hence the name), minus the THC-induced headrush and couch-lock.
And we can say that the designers succeeded in doing precisely that! Remedy is known to calm racing thoughts, help people manage stress and anxiety, as well as tremors and muscle spasms.
That said, Remedy's delicious earthy aroma and a sweet floral taste with notes of sour lemon also contribute to its reputation.
Valentine X
Proclaimed as the highest CBD strain for 2019, Valentine X has a spectacular 25:1 CBD to THC ratio.
The fact that this strain is named after St. Valentine, the patron saint of epilepsy (not the one of love and romance), hints at its powerful anticonvulsant properties.
In addition to its use on seizures, Valentine X is also effective in alleviating pain and muscle spasms, as well as symptoms of migraines and tension headaches.
A descendant of the world-famous ACDC CBD strain, Valentine X is a 50:50 Indica/Sativa combination that provides a feeling of euphoria, accompanied by a state of bliss and tranquility.
It never really overwhelms you (due to its low THC percentage), but it does increase creativity and releases tension and negative emotions with its amazing 25% CBD content!
With its powerful honey-pine aroma and spicy, woody aftertaste, Valentine X is a strain that is likely to remain popular among medical cannabis users for a long time.
Magic Bullet
This list of the highest CBD strains in 2022 would be incomplete without another newcomer— the Magic Bullet strain.
With 19.2% CBD, and low THC, this Indica-dominant hybrid cannabis plant does justice to his parent-plants Otto II and Wife.
Its flavor is fruity and floral. Plus, Magic Bullet has an exciting, exotic aroma mixing citrus undertones with pepper while being dominated by jasmine.
The rich cannabinoid and terpene content makes Magic Bullet suitable for calming down before going to bed. Among the high CBD strains, Magic Bullet is probably the highest CBD strain that helps with insomnia. Quite logical, if one is aware of the fact it also eases muscle tension, pains, and discomforts.
THC levels in Magic Bullet are usually below 0.3%. However, you might need to verify this because of different variations.
Ringo's Gift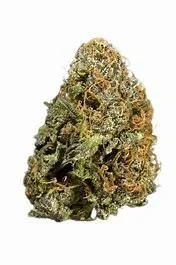 This popular strain is a crossbreed between ACDC and Harle-Tsu, both high CBD strains. Ringo's Gift comes in varieties that differ by their CBD to THC ratio.
Some have 1:1 cannabidiol per THC content, and others present a mind-blowing 24:1 CBD/THC. However, the average proportion is believed to be 13:1 CBD vs. THC.
Despite what you might think, the name of this strain has nothing to do with the famous Beatle but its breeder and a legend in the world of cannabis — Lawrence Ringo.
A trailblazer in the high CBD weed genetics and famous marijuana activist, Ringo was also the founder of SoHum Seeds. This cannabis genetics company is responsible for creating some of the best CBD strains of our time.
Ringo's Gift is frequently used in the best CBD products for pain but is also highly effective in cases of PTSD, stress, and anxiety. This cannabis variety is also recommended to treat GI (gastrointestinal) issues, arthritis, and muscle spasms.
People who've used it say that it gives them a warm, mellow, and calming feeling. All this while keeping them alert and focused—an advantage that the low THC strains have.
What's more, Ringo's Gift has a rich terpene profile, which gives this strain a piney and minty scent with a somewhat spicy and tangy taste.
Harle-Tsu
Harle-Tsu is another Indica-dominant strain made as a crossbreed between Sour Tsunami and Harlequin — also featured in this list of strains that pack a powerful CBD punch.
Just like Ringo's Gift, this cannabis variety was concocted in the SoHum Seeds company.
Although some phenotypes have lower CBD content (about 10%), by its CBD–THC ratio of 22:1, it is still one of the best high CBD strains.
The Harle-Tsu strain is mostly used as a painkiller, but it also benefits symptoms associated with PMS, PTSD, depression, insomnia, and migraines. Moreover, it is great for lowering anxiety and stress levels due to the mellow, relaxing, and focused effects it gives.
With its sweet earthy scent and herbal, pine, and slightly citrusy flavor, it is just a matter of time before this strain comes out of the shadows and becomes as popular and available as other high CBD strains with these qualities.
AC DC
Just like the famous band, the ACDC strain will rock you with a CBD–THC ratio of almost 20 to 1.
The impressive 20% of CBD in this Sativa-dominant strain offers a boost of energy, a piece of happiness, calm, and easy focus. All of these properties make this cannabis type the ultimate strain for daytime use.
Because of the non-psychoactive and non-toxic properties of the ACDC strain, together with Charlotte's Web, some regarded it as the best choice for epilepsy relief.
In adults, as one of the highest CBD strains, it can relieve people affected by chronic pain, depression, MS, and Parkinson's, too. What's more, users find it extremely helpful in the treatment of chemotherapy side effects.
Due to its low THC percentage, ACDC has no psychoactive effects. But, it does have a sweet, citrusy flavor and earthy aroma that will certainly make an impression.
Sour Tsunami
Sour Tsunami is one of the first strains to be developed specifically for its high CBD content and therapeutic effects.
Bred for four years by the above-mentioned Lawrence Ringo, this cross between the famous Sour Diesel and NYC Diesel strain is one of the best high CBD strains.
Any child of Sour Diesel is expected to have the distinct diesel and chocolate aroma, and Sour Tsunami definitely delivers. But this strain does so much more than that!
Sour Tsunami has proven effective in the treatment of back pain and other types of inflammation, as well as nausea, stress, and anxiety.
Ranking among the top CBD rich strains by user experience, Sour Tsunami is quite popular. It is a Sativa-dominant strain with versatile phenotypes that can reach CBD levels of 10% to 11%, but also a THC content from 1% to 10%!
Harlequin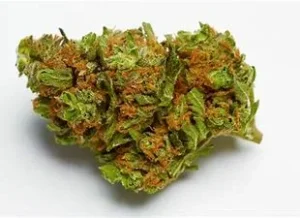 Apart from being one of the more popular strains, Harlequin has a unique cannabinoid mix. Usually, it presents around 8% to 16% CBD and 4% to 7% THC — more precisely, a 5:2 CBD–THC ratio.
Even though it has more THC than some others on this list, tetrahydrocannabinol levels in the Harlequin strain are still low enough to avoid that "stoned" feeling of, let's say, the Pink Panther strain (20%THC).
This means that Harlequin has a soothing effect but lets you keep a clear head. Plus, it is a Sativa-dominant strain, so it has a bit of an uplifting and energizing effect.
Some adverse effects can include dry eyes and mouth or mild headaches, but only in extreme cases.
Its original content makes this strain especially sought-after by people suffering from pain, migraines, depression, and PTSD. In addition, HelloMD has ranked it as one of the best CBD strains for anxiety.
What's more, Harlequin has a pleasantly sweet, mango, and earthy scent and flavor, making it perfect for both medical and recreational use.
Stephen Hawking Kush
A cross between Harle-Tsu and Sin City Kush, SHK has many phenotypes that range from 5:1 CBD–THC ratio to varieties that can have a staggering 22% CBD content.
Offering a feeling like no other CBD strain, SHK provides instant relief from pain and racing thoughts, followed by a calming, relaxing, and blissful effect.
Praised as the best and highest CBD strain for 2020, its soothing properties make SHK just what you need if you are suffering from pain, nausea, or muscle spasms and tremors (known to accompany MS and Parkinson's).
What does it taste like? Think of sweet, fruity cherry and berry scent and flavors mixed with a minty and earthy aftertaste.
Hawaiian Dream
Hawaiian Dream is a strain typically used to relieve pain and is also incredibly popular among medical users for its effect on eye pressure, muscle spasms, and inflammation.
Known as one of the low THC  high CBD strains (1:2 ratio), this CBD bud is a Sativa-dominant, uplifting weed.
Hawaiian Dream is probably a cross between the exceedingly famous Blue Dream and Maui Wowie strains, but it is mostly recognized on the cannabis market for its 6% to 12% CBD content.
Such high levels of CBD provide creativity, imagination, and focus (although if the occasion doesn't require focus, you could end up feeling a little spacey).
Hawaiian Dream has a sweet, tropical smell and even more delicious taste that's reminiscent of pineapples and Pina Coladas, making it a popular option for recreational users as well. Definitely one of the high CBD cannabis strains to try out!
Cannatonic
Like other rich CBD strains, it has many healing properties. Namely, it should offer instant relief from headaches, while its relaxing effects are beneficial to people who experience muscle spasms and chronic pain.
If all this gave you the wish to grow your own high CBD strains, seeds from Cannatonic may not be the best choice, at least not if you are a beginner.
Those with at least an intermediary experience can expect 10 to 11 weeks of flowering time and earthy-smelling buds with a sweet and mild, citrusy taste.
Sweet and Sour Widow
Bred by CBD Crew, this strain is a crossbreed between the classic White Widow and an unnamed Sativa hybrid, making it a 70:30 Indica-dominant weed strain. But this isn't what sets Sweet and Sour Widow apart from other CBD strains.
Actually, it's the even cannabidiol to THC ratio of 1:1 that dubbed this marijuana type a "beginner strain."
Simply put, this is one of those high CBD and THC strains that are great for people who want the best of both worlds — it has the medical benefits of cannabis and the buzz of THC, but without getting you too high.
As Sweet and Sour Widow puts you in a state of complete relaxation and just a mellow high, it is one of the best strains high in CBD for insomnia, stress, chronic fatigue, and pain, as well as muscle spasms.
With a slight aroma of onion and sweet and sour tastes accompanied by herbal and earthy overtones, it is not one to miss out on.
Pennywise
The Pennywise strain is an Indica-dominant weed that provides mental clarity (courtesy of one of its parents, Jack the Ripper) and excellent medical properties from its other parent, Harlequin.
Recognized among the weed strains high in CBD, with its 12% to 15% concentration of both CBD and tetrahydrocannabinol, Pennywise will provide relief from many physical symptoms of discomfort and pain.
However, it will also provide a slight THC hit that will never stop you from going about your daily business. In other words, the Pennywise strain helps you get rid of many ailments but keeps you focused and uplifted.
Another great thing about Pennywise is its delicious coffee and peppery taste with hints of bubblegum.
Dancehall
Dancehall lifts you up and can make you feel happy and energetic!
Like any other high CBD, low THC strain, Dancehall will not get you high. How could it when some of its phenotypes contain only trace amounts of THC? It does have pretty high CBD percentages, though — around 16%.
This Sativa-dominant is immensely popular for its sweet, fruity taste and tropical, earthy aromas.
Canna-Tsu
Unlike its cousin, Harle-Tsu, Canna-Tsu is a combination of Sour Tsunami and the Cannatonic strain.
Some varieties put Canna-Tsu on the high CBD low THC strains list with 0.52% tetrahydrocannabinol, 0.16% of CBN, and a whopping 18% of CBD, while others have an almost equal CBD to THC ratio.
But even if the ratio is equal between the two main cannabinoids, the high that Canna-Tsu provides has nothing to do with the racy high of some of the most potent weed strains.
Instead, it gives a calming, serene sensation that doesn't affect alertness and focus.
Being rich in terpenes, it gives off a wonderfully sweet earthy and citrusy aroma and taste. But more importantly, Canna-Tsu is one of the best high CBD strains for anxiety, and it offers relief to patients affected by chronic pain.
Midnight
The Midnight strain has 10% to 12% THC but around 12.5% CBD, making it perfect for daytime consumption. Like other CBD high strains, it relaxes the user but provides a sense of focus and mental clarity.
There's no doubt, as far as high CBD strains are concerned, Midnight is an excellent choice for all cannabis aficionados.
Benefits of High CBD Low THC Strains
CBD oil has found applications almost everywhere in the beauty, food, and pharmaceutical industry. So, why do people use CBD-rich cannabis over THC-rich?
The effects of CBD on the brain are many, but unlike THC, "CBD high" doesn't impair our daily activities. Therefore, CBD is a side-effects free aid in the treatment of:
Psychiatric disorders
Anxiety
Insomnia
Seizures
Chronic Pain
Inflammation
Cancer (prevention)
So get your hands on some high CBD Strains and enjoy!
Links:
Vape Shop Canada | Valkyrie Extractions
Marijuana Products & Services in Canada | Leafythings
Medical Marijuana Canada (mmjpr.ca)